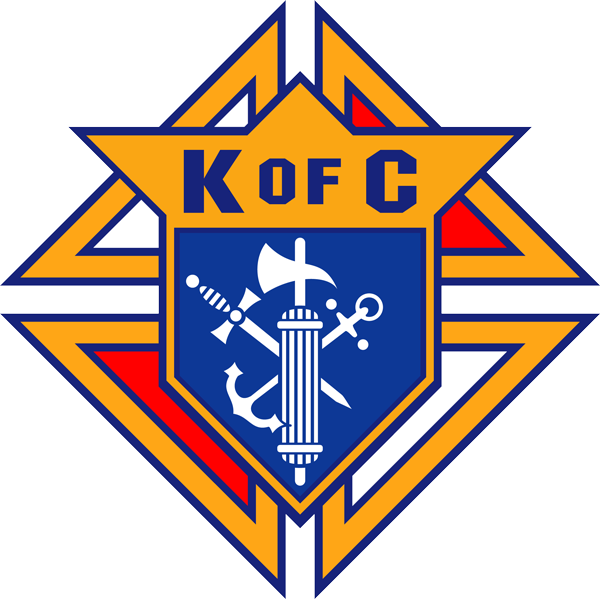 tempus fugit memento mori
"Time flies, remember death"
A reminder that we are here for a moment and to make the best of our lives and what better way then to help others living as Christ asked us in caring for those in need.
WHY I'M A KNIGHT
MLB Pitcher Trever Miller

THE DEGREES

There are four Degrees of membership in the Knights of Columbus. Each of the four Degrees is designed to correspond and demonstrate one of the four principles of the Order:

Charity, Unity, Fraternity and Patriotism

. Each Degree has it's own installation ceremony at which the core principle of the Degree is conferred upon the Knights seeking advancement in their local Council.

EXEMPLIFICATION:
something that exemplifies; an illustration or example.
CHARITY is the first core principle.

Our Catholic faith teaches us to "Love thy neighbor as thyself." Members of the Knights of Columbus show love for their neighbors by conducting food drives and donating the food to local soup kitchens and food pantries, by volunteering at Special Olympics, and by supporting, both spiritually and materially, mothers who choose life for their babies. Knights recognize that our mission, and our faith in God, compels us to action. There is no better way to experience love and compassion than by helping those in need, a call we answer every day.
UNITY is the second core principle.

Unity means none of us is as good as all of us. This principle helps Knights realize their true potential as Christian brothers and the sacred power of unity. Members of the Knights of Columbus all know that – together – we can accomplish far more than any of us could individually. So we stick together…we support one another. That doesn't mean that we always agree or that there is never a difference of opinion. It does mean that – as a Knight of Columbus – you can count on the support and encouragement of your brother Knights as you work to make life better in your parish and community. Members of the Knights of Columbus are united in the body of Christ, ritualized and embodied in their full participation in the Catholic Church. Their loyalty to Christ and the unity which He encompasses, is realized through their commitment to one another and their local, regional, and global church.
FRATERNITY is the third core principle.

The Knights of Columbus was founded, in large part, to provide assistance to the widows and children left behind when the family breadwinner died – often prematurely. The Order's top-rated insurance program continues to do this today, as do individual Knights, who last year gave more than 10 million hours of their time to assist sick and/or disabled members and their families. In the Knights of Columbus, we watch out for and take care of one another. Knights that have attained the 3rd degree enjoy privileges that include ability to serve as a local council officer, and admission to state and Supreme Council business meetings.
PATRIOTISM is the fourth core principle.

Established in New York on 22 February, 1900. The requirements for joining the 4th are that a brother Knight must have been a third degree member in good standing for at least one year, be an exemplary Catholic, and be of sound citizenship of his country.

The Fourth Degree is frequently regarded as an honorary title. To educate its members, and others, both in the teachings of
Holy Mother Church
,
and the history of our nation
. To promote by example the highest type of citizenship so necessary for the preservation and perpetuation of Republican form of government, and its democratic institutions. To oppose dissemination and spread of doctrine dangerous to our form of government, and to the Divine law of faith and morality. To support by word and deed, the duly constituted authorities of local, state and national government, and to recognize excellence in public life.
Therefore, it is not unusual to find Fourth Degree Knights participating visibly in church events, such as Eucharistic processions, and others, and in the community, standing up for the unborn and the elderly at Pro-Life events, and commemorating the sacrifices of previous generations on Remembrance Day.